Main Event Preview:#4 Rigters vs. #2 Saddik
Ben Saddik has won 4 of his last 5 fights. Both fighters have lost to the king of the Heavyweight Division, Rico Verhoeven, who is the best kickboxer in the GLORY league and a sparring partner of Tyson Fury. There is a 76.92% chance the fight ends in less than two rounds. According to the fighter's previous history, the fighters have 53.85% chance it will end exactly in the first round. Saddik looked great against Rico in his last fight in GLORY COLLISION, but he gassed himself out and Rico took advantage of it. Rigters is questionable in later rounds, but he is extremely explosive with his strikes. I do not see this fight going past the first two rounds, as they both have knockout power. As Saddik and Rigters are both elite fighters, this fight will come down to experience. Rigters averages 157 strikes per knockdown, and Saddik averages 57 strikes per knockdown. Personally, I just can't see this fight going to the less experienced fighter. I see Saddik winning in a showstopping way in the first round. Our machine learning picks will be available the morning of the fight on March 19th.

Co Main Event Preview:
#3 Wrzosek VS. #8 Hari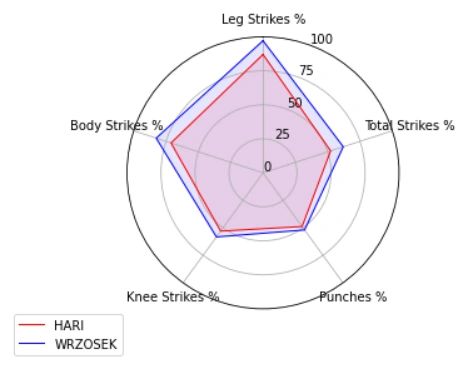 So, this fight again huh? Last time these fighters met, Hari was beating Wrzosek up so bad that they were about to call the fight. Hari knocked Wrzosek down twice and was looking for a third knockdown in the round which would end the fight. Then, Wrzosek landed a miracle kick to the head, and Hari was out cold… shocking the entire kickboxing community. I expect this rematch to be a similar fight.I have never seen so many people love a fighter like they love Hari. Hari will always be defended by his fans, but let's take a look at some stats for context. Hari has never won a fight in GLORY. This guy has been the main event every time he fights… and he loses. This guy has more loyal fans than Conor McGregor does in the UFC world. Hari obviously has an incredible career and maybe the best overall record of all time at 106-16. However, this guy just can't seem to win in the GLORY ring. Is his record inflated? Is the guy really a great fighter? I think Hari has an exceptional kickboxing IQ, and I think he finds openings that other fighters do not see in a fight. Wrzosek was ready to quit and pulled a miracle kick to win. Hari seems to struggle with recuperating after he gets rocked. He turns the fight into a brawl instead of a planned out work of art. This means he leaves himself opening to get kicked and lose.Both fighters took on Adegbuyi. Wrzosek lost by Unanimous Decision in December of 2018. Hari lost by KO in December of 2020. Hari has spent an average of 6 minutes per fight in the GLORY ring. According to the fighters' previous history, the fighters have 60.0% chance it will end in the second round. I think Hari finishes the job this time and wins by knockout in the second round.