UFC London Fight Night Analysis
In last week's Sunday IcePack Analysis (Sunday IcePack Analysis for UFC Vegas 50 – BeforeTheCageDoorCloses), we talked about how we are going to pick closer fights that need more data to produce accurate insight. These are perfect main and co-main events to look at this week for that purpose. Both matchups are 50-50 fights and have BCDC ranked fighters.
Main Event Preview:
Alexander Volkov vs. #3 ranked Heavyweight Tom Aspinwall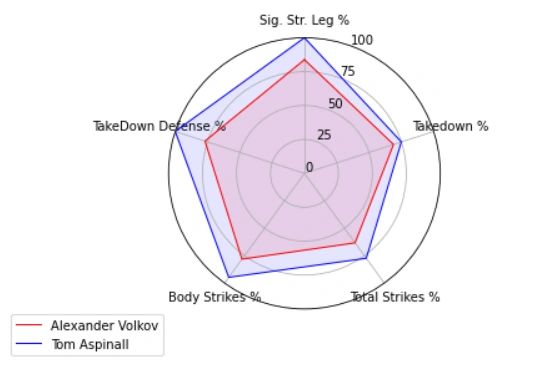 We are projecting this fight to be a standup fight and to go the distance. Tom Aspinall has incredible stats through his 4 fights and 4 wins. There are only 27 times in the UFC that a fighter has not gotten taken down in their first 4 fights and maintained a 75% takedown percentage. In 24 of these times, the fighter has won in the UFC. Yes, fighters are 24-3 (a 92% chance of winning) when they have these stats. I see Aspinwall moving up our BCDC rankings and pushing himself to number 2 after this fight. Aspinwall made defeating Arlovski look easy with his pace and takedown quickness. Volkov is impressive with his striking, as we all know, but I think Tom will out-MMA him. Aspinwall will dominate and win this fight on a unanimous decision, with an edge of ~40% using historical data.
Co Main Event Preview:
#3 ranked Featherweight Arnold Allen vs. Dan Hooker
Using our machine learning models, BCDC predicts this fight will go to the ground. We also see this fight not going the distance. In my analysis for this fight, it will come down to grinding at the clinch level by the cage. I do not see this fight being easy for either of these fighters. Let's look at how these fighters have performed in the past at these odds. Hooker is 4-1 at pick 'em status, so the sportsbooks usually get him right on these fights. Allen is undefeated and a really great ground fighter. Hooker struggles with his cardio. Allen has the advantage with the ground game, and our models are projecting this fight to go to the ground. This fight will come down to the control time. I see Allen outlasting Hooker by making this a striking, clinching, and grappling fight.

I ran a simulation of this fight 10,000 times (see x axis) with the price of the fighters and their chance to win the fight against each other with their odds price. Allen has a chance of winning back his bet money, whereas Hooker is priced so high (at roughly -110) that he will not win his money back in 10,000 fights! In simpler terms, Allen will not win all the time, but it is more likely for him to provide a profit at these prices than Hooker. Our Bayesian Simulation and Markov Chain Simulation show it is best to bet on Arnold Allen due to his price and winning percentage under these circumstances. It may be best to wait and see what BCDC machine learning models pick due to the success they have. (The BCDC machine learning models' recent picks have ~69% accuracy and overall accuracy of 62%.)