Anthony Pettis and his fall from spectacular in PFL 2021 season
BCDC is going to analyze Anthony Pettis' career in the UFC and PFL. How has he gone from UFC stud to the bottom of the PFL from 2020-2021? We will use data and models to project how he can win the PFL championship at the end of the 2022. Pettis has been impressive since his WEC days. Nobody is denying his skillset when he has his head on straight. He can truly be a top tier fighter, and we have data to show how he can get back on track in 2022. Since 2019, Pettis has gone 3-4 combined in the PFL and UFC. All three of his wins were in the UFC. Isn't that strange considering the UFC is the "better" league? Pettis should be dominant in the PFL… and the PFL expected his dominance and made him the face of the league, even when they have arguably the best woman fighter in the world. Pettis absolutely struggles when he has less than 150 days in between fights. In the UFC and PFL, he was 4-9 when he fought quickly within 150 days. Hi first PFL fight was only 125 days after his last UFC fight. His second PFL fight was only 63 days after that. Pettis seems to need about 5 months of prep or more between fights. When he gets this time, he is 7-2. If ring rust is a thing, Pettis should be the poster boy. The guy has 77% probability of winning when he has layoff time. Could this be his first momentum swing to get a W? When he has his first PFL fight back, he will have had 299 days of layoff time. Next, we are going to review his power numbers and his strikes per minute quality control charts. The red line below is Anthony Pettis' strikes per knockdown line. The y axis shows how many strikes it takes to get a knockdown. The x axis is the number of fights in his UFC career. The black line indicates the average strikes per knockdown for the bottom 25% of fighters… You want to be below this line and Pettis is not. The green line is the average in the UFC for strikes per knockdown. If Anthony Pettis wants to start having more success in his career, he will need to do a better job with his power! He has been below average (above the green line) since his 8th fight in the UFC. He is 6-5 in the UFC since being below average. However, he averages 81 strikes per knockdown in the PFL after two fights, so he has found success in the PFL but why has his power declined so much over time?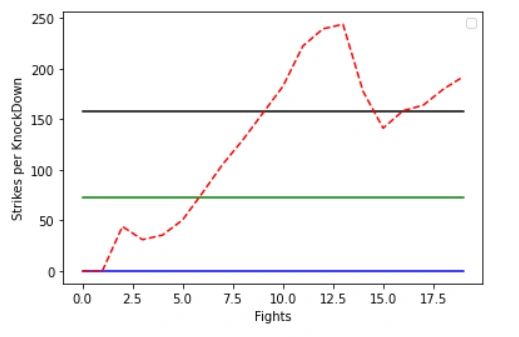 His strikes per minute are up! In the below graph, if Anthony Pettis wants to be above average in strikes per minute, then he needs to be above the green line.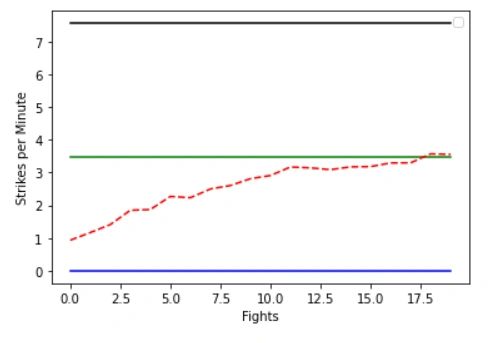 His power has gone down, but his strikes per minute have gone up! The data indicates that he is more focused on volume than power now. It might be beneficial if he slows down and goes for about 2-3 strikes landed per minute. This could save some juice for the explosive strikes. Pettis' PFL numbers averaged 111 strikes total for 30 minutes, which gives him 3.7 strikes per minute. This is too high for him! He does better with a slow technical fight and needs to exploit what he does well. Anthony Pettis could find success in 2022 because he will have at least a 150-day layoff between fights. He will come back with energy and dominate these fighters with his creativity and power. He can mix up the fight in a way no one else can. Pettis is an extremely talented fighter and showman, but he will need to control the pace of the fights in the PFL. Pettis' strike accuracy was 58% in the UFC and around 70% in the PFL. Pettis got out struck in the PFL by a little (-0.026), but that would be fine if he is going to be creative. However, he cannot afford to get knocked down at 113 strikes. In the UFC, it took an average of 447 strikes to knock Pettis down. If Pettis exerts himself too much in striking, it will leave him vulnerable to the strikes of other fighters. Anthony Pettis could try to out strike his opponents, but then he will not have enough power for a KO… and we know this probably won't work for him. Pettis will need to reduce his strike attempts per minute and focus on the creative power we all love him for if he wants to win a PFL championship. Also, he needs to figure out how to win with less than a 150-day layoff between fights to have an actual shot at winning the title this year. He will need to control the pace of the fights in the PFL and become a more powerful fighter again with less volume. If Pettis can go back to his style of fighting from his UFC days, then he should win the PFL championship!